Who are the Broncos' top performers after their…
4 min read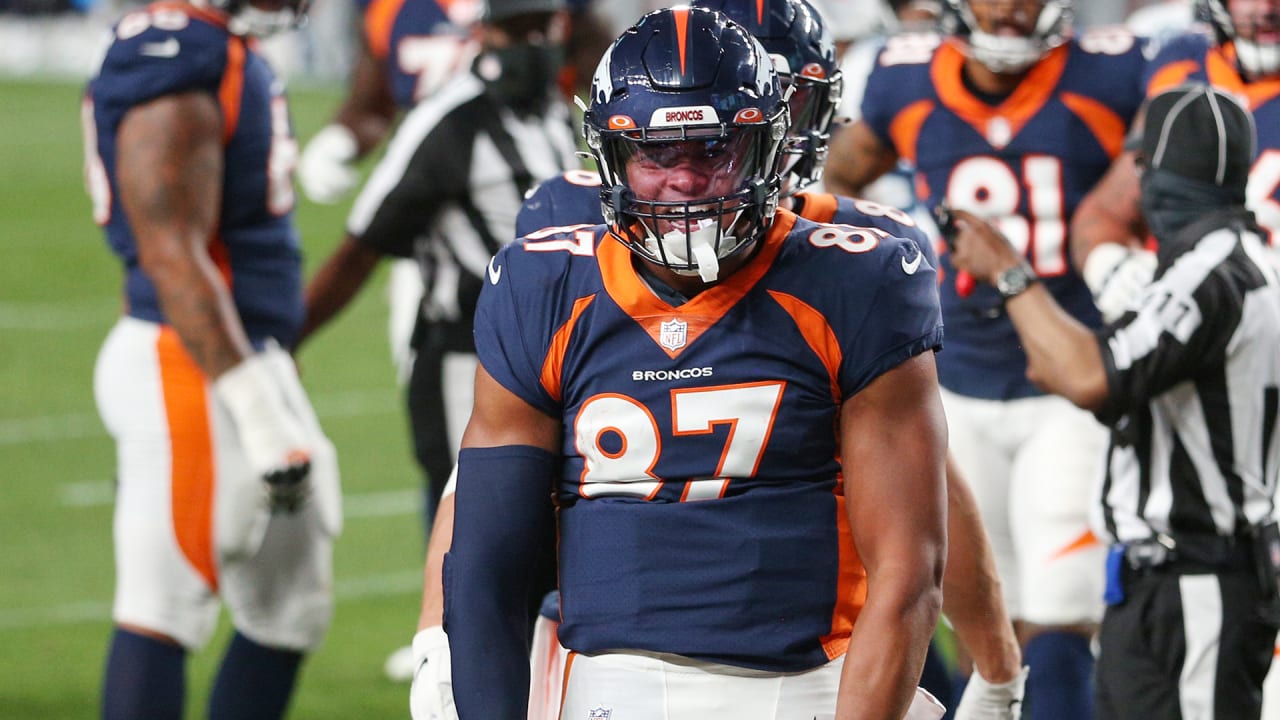 Alexander Johnson has been as expected with 29 tackles, a sack, one tackle for loss and three quarterback hits, but Jewell deserves recognition because of how he has responded to an unexpected opportunity. The Broncos released starting linebacker Todd Davis late in training campand Jewell regained a starting job that he lost after an injury early in 2019. He leads the teams in tackles through four games and also has a pass defensed, two sacks, two tackles for loss and two quarterback hits. Against the Jets, Jewell became just the third Bronco since 1994 to post a 10-tackle, two-sack game.
Harris returned to Denver on a one-year deal eager to bet on himself, and it has paid off so far in 2020. In Week 1, Harris blocked a Titans field-goal attempt. In Week 2, he recorded a tackle for a loss and forced a fumble against the Steelers. In Week 3, he posted two sacks, two tackles for loss, four quarterback hits and a pass breakup against Tom Brady and the Buccaneers. He added another half sack and pair of quarterback hits in Week 4. Quite simply, Harris has been among the Broncos' most-consistent play makers.
"He's in the best condition he's been in, definitely in the short time I've been here," Fangio said of Harris ahead of Week 4. "Admittedly, he says the same thing in the last couple years. His weight is down a little bit, which is allowing him to move better and utilize his quickness and strength more often than he was able to in the past because he's not as fatigued. I think it's a tribute to all the hard work he put in in the offseason and he's been able to sustain it here during the season."
After an offseason of rehab, Chubb deserves to be recognized for a Week 4 game against the Jets that signified the fifth-overall pick is as good as ever. Chubb tallied 2.5 sacks and five quarterback hits against New York, including a fourth-quarter fourth-down sack of Sam Darnold that essentially sealed the Broncos' win. His performance against the Jets was his fourth career multi-sack game of his career, and only Von Miller and Elvis Dumervil have more multi-sack games through the first 24 games of their careers. Speaking of Miller: Chubb's performance is more impressive given that the Broncos have had to rush the passer without Miller opposite Chubb.
"It was a good game, but I feel like I could have done a lot more," Chubb said of his performance against the Jets. "I feel like I could have made a lot more tackles and a lot more plays. At the end of the day, I've got to appreciate that I was able to go out there and do that, but I'm still hungry for more."
Simmons continues to be one of the Broncos' most-reliable players, as he hasn't missed a defensive snap since the beginning of the 2018 season. He has played all 291 defensive snaps in 2020 and posted 27 tackles, one tackle for loss, an interception and two passes defensed. His best game likely came in Week 2, as he helped swing momentum in the Broncos' favor with an interception. He also added a tackle for loss and two passes defensed in that game. According to Pro Football Focus, Simmons ranks fourth among all NFL safeties this season who have played at least 200 snaps.
"I kept saying, 'It doesn't matter, we found a way to win,'" Simmons said of the team's win over the Jets. "We were minus-three in the turnover battle, which is a huge factor. We talk about it all the time. Takeaways are huge part of winning football games. Setting your offense up with shorter fields and momentum swings. We lost that battle, but we found a way to win the game which is a huge confidence boost for our team — knowing our offense can put up the points to win a football game like that and knowing defensively that we weren't playing at our best. We didn't get any takeaways and we still found a way to close out the game when it mattered. That's a lot of momentum going into the rest of the season, and we have to make sure we're capitalizing on things like that."
In Week 1, Titans kicker Stephen Gostkowski missed three field goals and an extra point, which almost helped the Broncos steal a win. Denver hasn't had to worry about such issues, as McManus has turned in one of the best starts of his career. Through four weeks, McManus has connected on all eight of his extra points and six of his seven field-goal attempts. His lone miss came from 58 yards in Pittsburgh, but he redeemed himself in Weeks 3 and 4. He made a 56-yarder against Tampa Bay and was named the AFC Special Teams Player of the Week after making field goals of 40, 53 and 54 yards against the Jets. McManus' game against the Jets tied him for the second-most games in NFL history with multiple 50-plus yard field goals.
https://www.denverbroncos.com/news/who-are-the-broncos-top-performers-after-their-first-four-games-of-2020